Arkansas Middle School Pep Squad Parent/Student Meeting. All incoming 6th grade students are invited to join the AMS Pep Squad! Arkansas Middle School Cafeteria - Tuesday, May 25, at 5:30 PM. #teamtasd #potentialrealized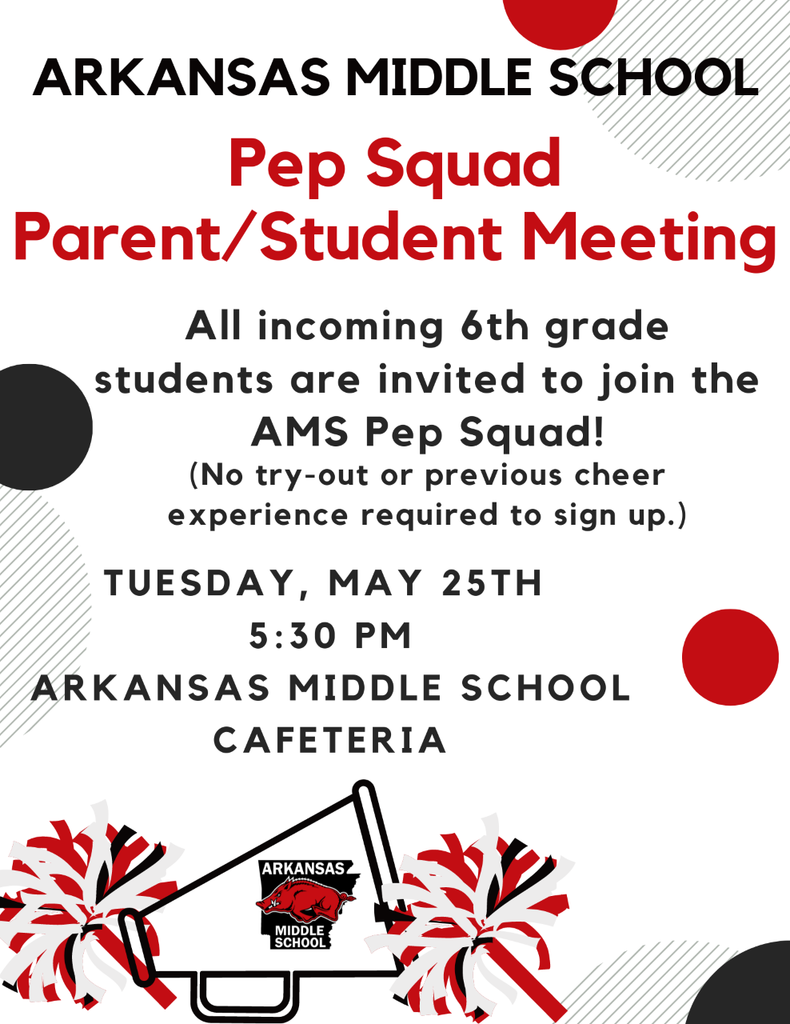 TONIGHT! Gifted and Talented Parent Meeting - Tuesday, May 25th at 5:30 PM - Arkansas Middle School #teamtasd #potentialrealized

Gifted and Talented Parent Meeting - Tuesday, May 25th at 5:30 PM - Arkansas Middle School #teamtasd #potentialrealized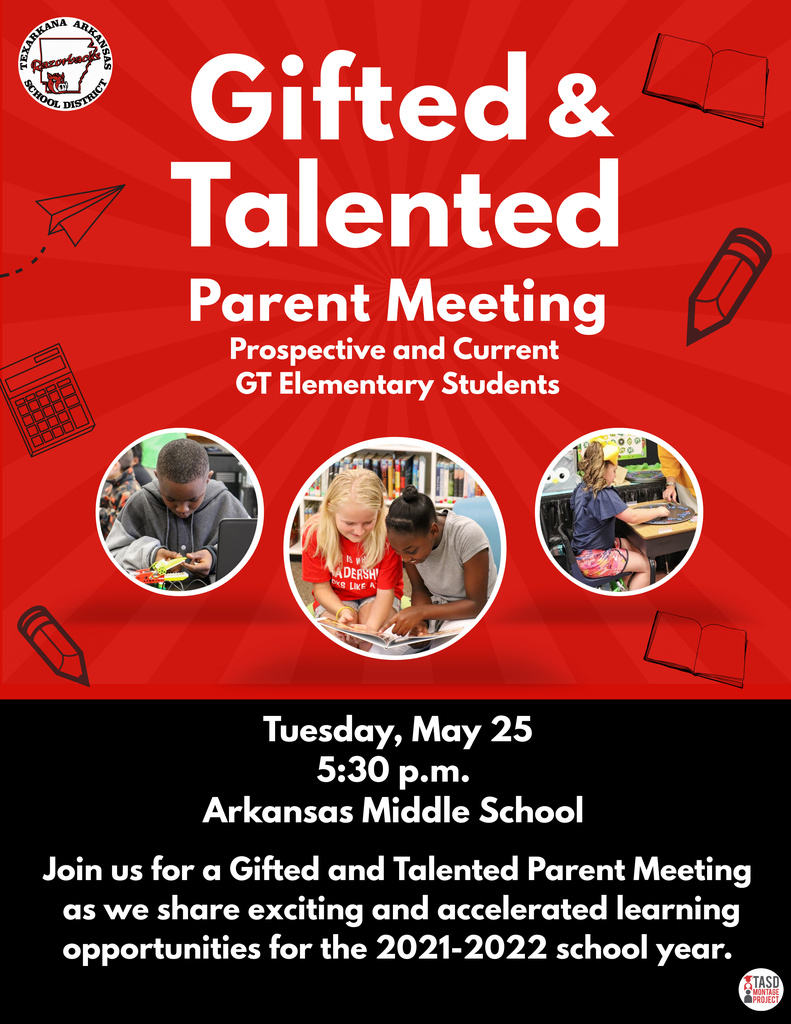 Digital Learning Academy Parent Meeting tonight at 6:00 - College Hill Middle School, 1600 Forest St. ZOOM link for meeting -
https://zoom.us/j/94033980006

This is a reminder that tomorrow, Friday April 2, is a virtual day for all students; however, our campuses will be open and buses will run for students who wish to attend school. Additionally, the ACT Aspire testing window opens Monday, April 5. All traditional, hybrid, and virtual students in grades third through tenth are required to take the ACT Aspire assessment on their campus. TASD will continue to work diligently to maintain a safe environment as students prepare for the ACT Aspire test. Your child's campus will contact you with information regarding specific testing dates and times.

All schools and offices will be closed for Spring Break - March 22 - 26. Enjoy your break. #teamtasd #potentialrealized

All Texarkana Arkansas School District campuses and offices will resume regular schedules on Monday, February 22. #teamtasd #potentialrealized #saferazorbacks

Freezing temperatures and additional snowfall will continue across our region. Road conditions are unsafe for travel as overnight and early morning temperatures continue to remain below freezing. Therefore, all Texarkana Arkansas School District campuses and offices will remain closed with plans to resume on Thursday, February 18. Tuesday and Wednesday will be virtual learning days for students. Please stay safe.

No School - Monday, January 18, 2021 - Martin Luther King, Jr. Day #teamtasd #potentialrealized #saferazorbacks

Download our school's new app. It's a simple way to view the school's news feed, events and dining, and also receive push notifications directly from us. It's free to download to your iOS or Android phone and quick to set up. All of the news and events posted to our website are posted here for easy access. You can also add multiple schools and/or the district to gather all news, events, and alerts in this one app. We'll send push notifications out to keep you updated on urgent news. #teamtasd #potentialrealized #SafeRazorbacks


Superb Showing! Virtual Scholars of the Week! #virtuallearning #superbshowing #virtualscholarsoftheweek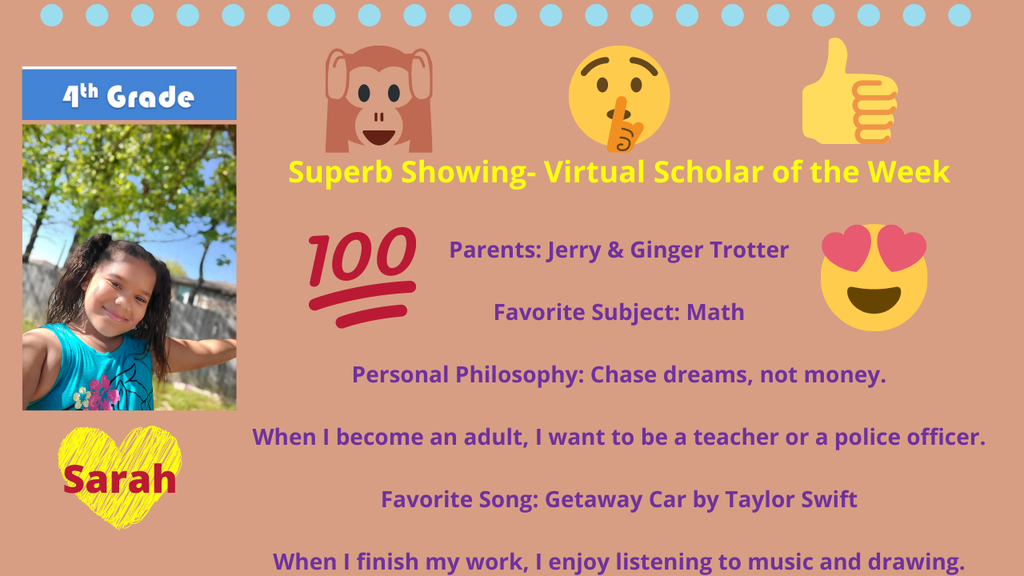 Meals for Virtual and Hybrid Students - Meals are now available to order online for Virtual and Hybrid students. You must place your order using the Send Money to School link:
http://www.sendmoneytoschool.com/
located on the district website –
www.tasd7.net
under the Parent/Child nutrition tab. Virtual students must select a full week of meals. Hybrid students should only order for the days they have off-campus learning. Meals are available for anyone under the age of 18 years old – this includes children who do not attend the Texarkana Arkansas School District. However, those orders must be called in to one of the school meal pick-up sites You may place your order Monday-Thursday for the next week. Pick-up is Monday morning from 8 a.m. to 10 a.m. at one of the pick-up sites. The pick-up sites are: • North Heights Junior High - 870-773-1091 2118 East 35th Street • Union Elementary - 870-772-7341 1701 Line Ferry Road Please note if there is a holiday, the date and time will change.

Those who indicated a need for technology for blended and virtual learning may pick up a device on Monday, August 24th at the following times and locations: • Kindergarten - 2nd grade 9:00 am - 11:00 am • 3rd grade - 5th grade 1:00 pm - 3:00 pm • Drive-thru parking lot near Garland. Last name starting with the letters A-M. • Back parking lot near school gym. Last name starting with the letters N-Z.

• Teachers will be contacting their scholars by phone for the upcoming 2020-2021 school year on Wednesday, August 19th.

Virtual Meet the Teacher will be held Thursday, August 20th at 4 p.m. for all scholars. A link for this will be posted via Facebook.

First day of school is August 26th!